This is a very dark, masculine, intense and unique fragrance. It feels cold and warm, wet and dry, dark and earthy.
The best way to describe this fragrance is heavy rain on the asphalt in the city.
Narciso Rodriguez For Him was inspired by "the great masculine fougere fragrances from 1980's" and includes notes of: musk, amber, violet leaf and patchouli.
Blast of Violet
For Him opens up with a green "gust" of minty herbal violet leaf, and patchouli note making it wet, green, earthy and almost mineral-like.
It's slightly fresh but not really a "freshy-freshy" type of smell. It's almost like wet concrete with the floral notes.
Patchouli Magic
In the mid stage For Him makes a quick transition from green notes to sheer woods and patchouli/amber. The wetness and green vibe fade away, and it gets drier but still as hypnotic.
Patchouli comes on top strong, the violet becomes softer and remains, the sharpness dissipates, in comes the amber and musk, making it warm and aromatic.
Patchouli is what makes the dark magic possible here. Its sweetness mixes with clean amber and animalic musk, making it dense, almost oily and with an illusion of spices.
Warm Woods
The drydown is low but steady. Patchouli is gone and woods with the hint of violet leaf come out more bringing a warmth.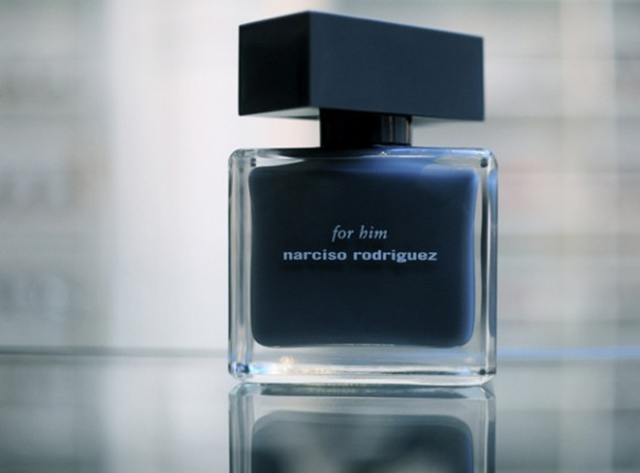 At the end
Narciso Rodriguez is not for any him. It's viciously unpleasant and highly contradictory: sweet and bitter, clean with a dirty side, alive but with darkness all around.
It's a great cold, rainy day scent. Very powerful, very strong, and it's got major longevity.
This is a niche quality fragrance, very sophisticated and masculine. If you want to stand out, be different from the rest of the crowd, this fragrance is for you.
Be warned, you will need to be extremely confident to pull this one off.
Nonchalantly Yours,
Nikola